Venotrain® Micro Dyed BATIK Edition Panty Hose Open Toe Ccl 1 (18-21mmHg) & Ccl 2 (23-32mmHg) RAL
£84.95 – £92.95
A True Fashion Statement in Compression Hosiery
Batik Black   
Batik Navy   
Description
The compression hosiery for a sense of well being. Soft, gentle and stylish leg therapy.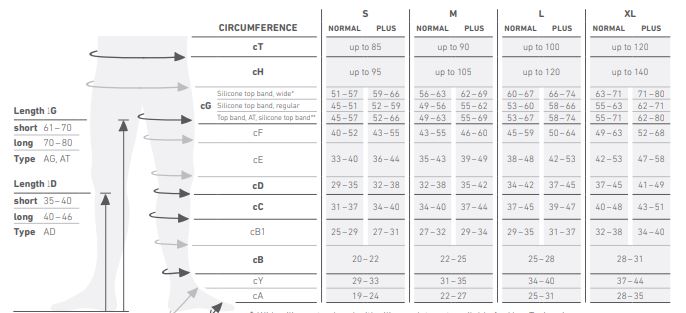 VenoTrain BATIK Edition
Individually dyed VenoTrain Micro Batik versions that create real highlights for trend setters and those looking for a compression hosiery with a difference and a stylish edge. The two options available are: Batik Black and Batik Navy.  the chosen colour serves as a background, which is then batik dyed in black or navy blue.
Bauerfeind's most popular compression stocking is the VenoTrain micro. Made with 50% microfiber, it is particularly soft and gentle on your skin. Moisture is transported away and air can circulate to your skin, preventing any unpleasant build-up of heat. The comfortable, elastic knit stimulates blood circulation, relieves your veins and has a contemporary stylish look. This stocking is available in a wide variety of designs, nine classic colours to match the needs of people with different preferences and life-styles as well as open or closed toe.
All VenoTrain® products comply with Eco-Text standard 100. They meet the requirements of the Safe Medical Devices Act and bear the CE label. Regular controls by the independent research institute Hohenstein confirm that VenoTrain® compression hosiery rightly bear the RAL label. The stockings ensure optimal treatment due to perfect customisation with wide cuffs and a comfortable heel. Double wound Lycra® thread provides first-class wearing characteristics and ensures the success of compression treatment.
The off-the-shelf stockings are made to provide a perfect fit that feels like a 'second skin.  Because patients will only wear medical compression stockings regularly if the length is right and circumference of the stocking is absolutely fitting, thereby ensuring the success of treatment.
Indications: VenoTrain® hosiery can be used to prevent venous disease, for light varicosis, for treatment after vein operations, for treatment after sclerotherapy, for support during pregnancy and travel, for the treatment of severe varicosis, for severe venous dysfunction, to prevent and treat an ulcer, for treatment after the healing of an ulcer, for the treatment of lymphoedema and for the treatment of elephantiasis.
VenoTrain® compression stockings are comfortable to wear and support an active, healthy lifestyle. A balanced compression effect, individually tailored to the requirements of your legs guarantees therapeutic success. Medically effective, continuously tested, guarantees the high quality of VenoTrain®.
MATERIAL CONTENT
Ccl 1: 65% polyamide, 35% elastane
Ccl 2: 55% polyamide, 45% elastane
Additional information
| | |
| --- | --- |
| Weight | 0.4 kg |
| Dimensions | 26 × 16 × 5 cm |