Sigvaris ESSENTIAL THERMOREGULATING Panty Hose Closed Toe Ccl 1 (18-21mmHg), Ccl 2 (23-32mmHg) & Ccl 3 (34-46mmHg) RAL
£82.95 – £92.95
Description
PREVIOUSLY  "COTTON".  SAME SIZES AVAILABLE.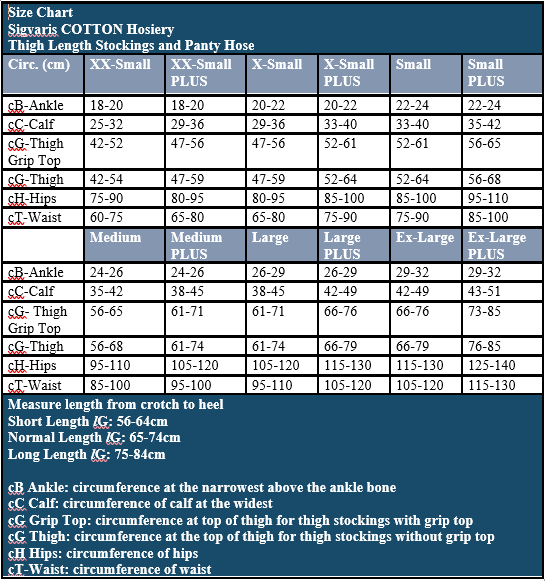 Sigvaris ESSENTIAL THERMOREGULATING
Sigvaris 200 ESSENTIAL THERMOREGULATING Range is available in RAL Classes 1, 2 and 3 and can also be made to measure. It is made with the finest cotton, warm in the winter and cool in the summer.  The mix of fibres ensures a balanced temperature in fluctuating climate conditions. Absorbs perspiration, prevents heat and moisture build-up; 100% cotton yarn next to the skin combined with soft nylon yarns ensures the highest level of comfort.
The high stretch knit-construction provides a high degree of elasticity, making the stockings easy to put on and remove. The double-covered yarns ensure durability and a long product life, making the cool cotton suitable for everyday and leisure wear.  Particularly suitable for sensitive skin, ensuring greater comfort and well-being.
Indications
Suitable for dermatological problems, sensitive skin, hyperhodrosis (sweating), lymphoedema after decongestant therapy for maintenance, after sclerotherapy, long distance travel, trophic skin conditions, long hours of standing or sitting, chronic venous insufficiency (grades I and II), leg ulcers, tired and aching legs. Suitable for any infirm arthritic or elderly person who has difficulty putting on nylon stockings, for health care professionals, factory employees, cashiers and hair stylists.
For women and men with sensitive skin
Excellent thermoregulator
Opaque with a subtle ribbed texture
Optimal mix of fibres means that the stocking slides on and off easily
SWISS MADE quality seal
Tangible high quality as the result of using precious natural fibres
Virtually lint-free cotton fabric with good stretching properties
Material composition
52% polyamide
34% elasthan
14% cotton
Styles options
RAL Ccl 2 (23-32 mmHg) only
Other Styles: Calf Length, Thigh Length, Thigh Length with Grip Top, Thigh Length with Wist Attachment, Maternity Tights
       Open Toe (box includes a foot-slipper) and Closed toe
Made to measure available
Sizes: XX Small, X Small, Small, Medium, Large and Ex Large
Lengths: Short, Normal and Long with plus sizes for extra wide thighs
Colours: Nature and Black
Additional information
| | |
| --- | --- |
| Weight | 0.40 kg |
| Dimensions | 25 × 16 × 4 cm |