Sigvaris TRADITIONAL 500 Natural Rubber Thigh Length Stocking with Waistband Open Toe 503 Ccl 2 (23-32mmHg) & 504 Ccl 3 (34-46mmHg) RAL
£78.95 – £89.95
Description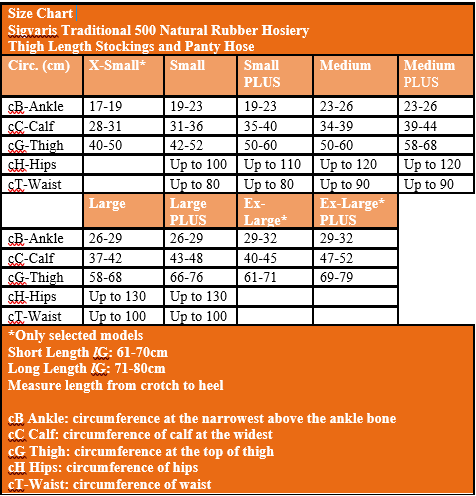 Sigvaris TRADITIONAL 500
Highly effective medical compression
Comfortable
Ideal alternative to flat knit stocking
Sizes available from X-Small to X-Large PLUS
Available in made to measure
The SIGVARIS TRADITIONAL 500 Series is the classic among compression stockings and is particularly suitable for men and women who must always wear compression stockings, e.g. in post-thrombotic syndrome, chronic venous insufficiency or lymphoedema. Numerous scientific studies have documented the medical effectiveness of TRADITIONAL 500 Series natural rubber quality products.
The material is largely resistance to fatigue and the highly elastic material maintains a constant level of compression throughout the day. Therefore, it is recommended for the more serious indications, for long term therapy and to reinforce the benefits of therapy.
Styles options
Open-toe (box includes a slipper)
Length: Short or long
Other styles: thigh length, thigh length with waist attachment, thigh length with grip-top , female tights, maternity tights, male tights with fly, sleeve with handpiece, sleeve without handpiece
Colours: Beige only
Indications
Varicose veins, leg ulcer, lymphoedema, maternity, Deep Vein Thrombosis (DVT), dermatological problems, sensitive skin, hyperhodrosis (sweating), lymphoedema after decongestant therapy for maintenance, after sclerotherapy, long distance travel, trophic skin conditions, long hours of standing or sitting, chronic venous insufficiency (grades I and II), leg ulcers, tired and aching legs. Suitable for everyone especially those who find it difficult to put on nylon stockings.
If you are ordering class 3 or class 4 for the first time, we will give you a call or message you for more information before releasing your order.
If using compression hosiery for the first time, please consult your doctor or a medical professional who can decide on the most suitable compression for your condition.  If unsure, please speak to our Limited Orthotic Practitioner on: 07951 762 390.
Additional information
| | |
| --- | --- |
| Weight | 0.35 kg |
| Dimensions | 26 × 16 × 5 cm |