Sigvaris ESSENTIAL THERMOREGULATING (Cotton) Thigh Length with Plain Top/Knobbed Top/Sensinnov Grip Top Open Toe Ccl 1 (18-21mmHg) & Ccl 2 (23-32mmHg) RAL
£82.95 – £85.95
Description
PREVIOUSLY  "COTTON". BUT SAME SIZES AVAILABLE.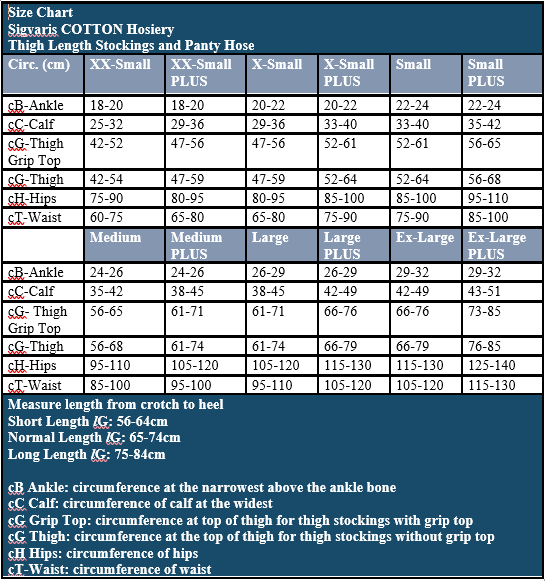 Sigvaris ESSENTIAL THERMOREGULATING Compression Hosiery
Ideal for any seasons
100% cotton against the skin
Available in both silicone knobbed and Sensinnov grip tops
Very soft and comfortable to wear
Sizes available from XX Small to X Large PLUS
The new and improved ESSENTIAL THERMOREGULATING is unisex and ideal for wearers of compression stockings who want to combine a natural look with the skin-friendly properties of cotton.  Features and benefits include broader size coverage and more colours in the closed toe. The toe seam of the closed toe has also been redesigned, now flatter and softer than in the old cotton, making it more wearable.  The heel, too, has been revised in all models to provide a durable and comfortable product. Available in Classes 1, 2 and 3 and can also be made to measure.  It is made with the finest cotton, warm in the winter and cool in the summer.  It is friendly to the skin and comfortable to wear.  Absorbs perspiration, prevents heat and moisture build-up; 100% cotton against the skin combined with soft nylon yarns ensures the highest level of comfort.
The high stretch knit-construction provides a high degree of elasticity, making the stockings easy to put on and remove.  The double-covered yarns ensure durability and a long product life, making the cool cotton suitable for everyday and leisure wear.
Suitable for dermatological problems, sensitive skin, hyperhodrosis (sweating), lymphoedema after decongestant therapy for maintenance, after sclerotherapy, long distance travel, trophic skin conditions, long hours of standing or sitting, chronic venous insufficiency (grades I and II), leg ulcers, tired and aching legs.  Suitable for everyone especially those who finds it difficult to put on nylon stockings.
Additional information
| | |
| --- | --- |
| Weight | 0.45 kg |
| Dimensions | 26 × 16 × 5 cm |